2018NYtoParis.com




Film Documentary


1908 Route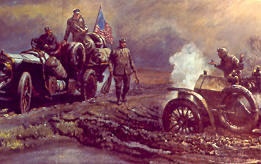 The American Thomas Flyer
stops to help
the German Team in Siberia
Painting by P. Helck

The Competitors
This truly world class event included National Teams from France, Italy, Germany and the United States. The New York to Paris Automobile Race was to be driven across the frozen Bering Straits in the dead of winter 1908. All this at a time when horses were considered more reliable than automobiles.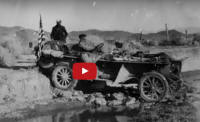 Thomas Flyer - 1908 World Champion (Click for Video)

The Race
What many called "The Great Race" was sponsored by the NEW YORK TIMES and the LA MATIN (a Paris newspaper). The torturous New York to Paris Race route: NYC, Albany, Chicago, San Francisco, Seattle, Valdez Alaska, Japan, Vladivostok, Omsk, Moscow, St. Petersburg, Berlin and finally Paris. The Thomas Flyer Team covered three continents and over 22,000 miles in 169 days. The 1908 Race was ultimately won by the American Thomas Flyer driven by George Schuster Sr. of Buffalo, NY. The feat has never been equaled. They still hold the world record over 100 years later!
Route Maps - The Asia/Europe map is an original purchased in Vladivostok May 1908
(Click images to enlarge)

Follow the Events
The buttons to the left or below will take you through the historic New York to Paris Race 1908, with the men and their automobiles. You will see the restoration of the Thomas Flyer with the help of the winning driver, George Schuster*. There are also recent updates and additional information.
*George Schuster was inducted into the Automotive Hall of Fame on October 12, 2010. He joins automotive legends including Ford, Andretti, Benz, Ferrari, Olds and Shelby. NY to Paris Race Thomas Flyer New York to Paris Race George Schuster, NY to Paris Race, New York to Paris Race, George Schuster, Jeff Mahl, The Great Auto Race, NY to Paris Race, Thomas Flyer, New York to Paris Race, Jeff Mahl